Former residence hall renovated
As UMKC ages, the buildings and various facilities become old and sometimes dangerous for people to use or live in.
In July of 2010, renovations began on the former resident hall known as Cherry Street dorms.
The building was completed in 1955 and replaced Epperson House as the official dormitory of UMKC.
Cherry Street was the only residence hall on campus until the completion of the more modern suite-style residence hall called Oak Street in 2004.
After 59 years and hundreds of students, Cherry Street has become outdated and unfit for housing.
Students who lived in Cherry Street made claims of mold growing in their rooms.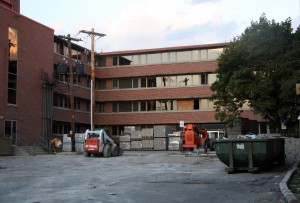 It was also rumored there was asbestos discovered in the ceilings of various rooms in the half-century-old building.
In 2009, UMKC officially closed Cherry Street as a residence hall and it sat in a condemned state for over a year.
In the fall of 2009, Herman and Dorothy Johnson Hall took the place of Cherry Street as a residence hall. This allowed more students to live on campus and have another option instead of Oak Street or Oak Place Apartments.
As renovations continue, various offices such as the college of arts and sciences (A&S) and psychology and social work prepare to make Cherry Street their new base of operations and central location.
These offices are currently located in the 4825 Troost building and Scofield Hall.
"Their move will bring them much closer to the core of the campus for student computer labs and classrooms, faculty offices and research labs," Asst. Vice-Chancellor of Facilities Robert Simmons said.
Simmons stated that the renovation of Cherry Street costs a total of $4.1 million.
"The project is being funded by UM System Maintenance and Repair (M&R) Bonds and Campus Maintenance and Repair Operating Funds," Simmons said.
The planned opening of the newly renovated Cherry Street is set for January 2011.
So far, the A&S and psychology departments, which will be located on the first, second and third floors of Cherry are the only office planned to occupy the five-story building.
"The top floor of the renovated Cherry Hall and a portion of the basement are currently unassigned pending the next stage of planning efforts to the Student Success Center," Simmons said.
For more information on current or future construction updates on campus,
please visit http://masterplan.umkc.edu/