'A Haunted House 2' is hauntingly stupid
"A Haunted House 2," the sequel to Marlon Wayans horror genre parody, claimed fifth place with $8.8 million during its opening weekend at the box office. Its predecessor, however, grossed an astonishing $40 million last year in domestic box office sales.
The comedy directed by Michael Tiddes, stars writer-producer Marlon Wayans as Malcolm, who after exorcising the demons of his ex-girlfriend (Essence Atkins), has moved on with a new girlfriend (Jaime Pressly) and her children—an innocent-looking but vulgar mouthed son Wyatt (Steele Stebbins) and a promiscuous teenage daughter Becky (Ashley Rickards). After the couple settles into their new home, the film follows Malcolm as he unearths that his house is haunted.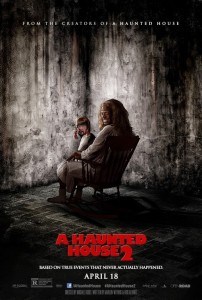 Malcolm is once more plagued by bizarre paranormal activities borrowed from several recent horror flicks. Wyatt has an invisible friend, a storyline from "Paranormal Activity 3" and Abigail, the evil-looking doll, parallels "The Conjuring."
I viewed the first film when it was released on DVD and regretted my selection. I had the expectation that Wayans would replicate the comedic standards that he executed in the "Scary Movie" franchise. I was sorely disappointed and swore off the sequel until I was presented with a free screening. I figured the drive would be worth a chuckle or two.
The plot, which is mostly scattershot, is loaded with sexual jokes and scenes which could trigger increased tension depending on whom you're seated next to. Wayans also exerted great efforts to get a laugh with an extended scene of Malcolm displaying intimacy with a possessed doll. The introduction of stand-up comic Gabriel Iglesias as the Mexican neighbor is a pleasant addition until he and Malcolm begin exchanging a barrage of racial jabs. The over saturation of crude, raunchy, and down right juvenile jokes can take it's toll. The re-instatement of Father Williams (Cedric the Entertainer) and Ray-Ray (Affion Crockett) from the last installment is refreshing, as is the addition of newcomers Noreen (Missi Pyle) and Ned (Hayes MacArthur) as married ghostbusters.
There's even a line in the film where Malcolm says the "Scary Movie" franchise isn't funny anymore without the Wayans, although he fails to prove his point that he can do better with this film. The 87 minute R-rated film can be summed up as a series of absurdly stupid scenes. In spite of a sloppy script that executes a limited amount of decent humor, it's an upgrade from the initial film. If you're still eager to see this film I recommend holding off for the DVD release.