Alumna makes her mark in radio
Ivani Bing was born in Worcester, Mass., as the only child to a Brazilian mother and American father before relocating to Kansas. She graduated from UMKC in 2011 with a B.A. in communication studies with a journalism and mass communication emphasis. Internships propelled her career. In 2009 she started at Cumulus Media, a radio station, followed by KMBC-TV News in 2010. Bing returned to Cumulus Media in 2011 because reporting hard news did not appeal to her. Bing spent two and a half years as an intern at Cumulus before she secured a position as a 95.7 The Vibe street team member. Then she was a representative for Sweet Jack, a daily deal service. Now Bing is the social media coordinator for all seven Cumulus Media radio stations that broadcast rock, classical soul, pop, R&B, oldies, and sports.
When did you realize that you wanted to pursue radio?
During my junior year of high school I took introduction to television and radio and fell in love with it. I asked my teacher what I should study in college to pursue a career in this field and she told me journalism so that's what I did. I also hosted pep assemblies in high school and loved speaking to an audience.
What prompted you to attend UMKC?
I considered attending the University of Missouri-Columbia or North Carolina A&T State University but decided to stay local to be close to my parents. I've had fantastic opportunities and internships so I don't regret attending UMKC. I believe everything happens for a reason.
How did UMKC prepare you for this industry?
I took several of Peter Morello's courses including radio and television performance. During the course he gave me feedback on my strengths and weaknesses to improve on. He also coached me about what to expect during my internship at KMBC since he had a background in television news.
Tell me about the jobs you've had at Cumulus?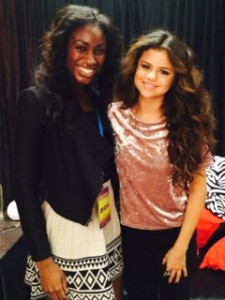 As a street team member I would contact club owners and arrange for 95.7 The Vibe to visit their establishment. It allowed the community to see our stations presence and that we know where all the hottest places are in Kansas City, Mo. I mingled with the crowd, took pictures and uploaded it to our Facebook page. For Sweet Jack, I would attend Chiefs football games and informed people about Sweet Jack's benefits in the hopes they would sign up for the discounts. As a social media coordinator, I provide captivating content to drive traffic to our social media pages. I also give audiences backstage access to our shows by posting images of backstage interviews.
What are the highlights of working in radio?
There's never a dull moment and I'm always busy. I've met really cool people that share similar interests as me. I'm still friends with people I interned with at Cumulus Media. Some of my closest friends are through radio. I also get to attend concerts and other entertainment events.
What are some hurdles that you've encountered in the industry?
It's a male dominated industry. People kind of doubt that women are here for the right reasons. They think you want to be a groupie and go back stage so you have to prove that you're here to advance your career and that you want to go places. You can't get discouraged because there will be so many doors that close in your face and so many people that tell you that you can't do it. Here I am today thriving and this is only the beginning. I see so many things for me in the future and I'm not going to stop just because someone told me 'no.' You just have to keep going and keep pursing it.
What are some of the challenges of working in promotions?
We're responsible for thinking of new ideas to be vibrant in an effort to keep the public's interest,which is a difficult task. Our job is to appeal to the audience and captivate them to listen to our station. We want them to care about what were doing and where we're going as a station.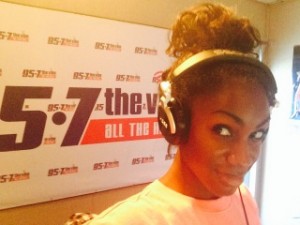 What are some of the challenges of being on-air?
I have to pretend I'm talking to someone in the studio. There's so many people who think they know how a radio personality should talk but it's actually much harder then what they think. I have to be conversational and there's so many things people think I should say but it sounds awkward on [the] air. It's better to talk to someone directly rather than to address them as a group. For example, instead of saying 'Hey guys what's going on? it's Ivani!' I should say 'Hey guess what!' If someone is driving they should feel like I'm sitting in the passenger seat talking to them. It's a way to connect with the audience.
Have you ever been star struck?
I've never been star struck but I was nervous to meet the comedian Paul Mooney for the first time. I was hosting a show at the Improv Comedy Club and a waitress came to me and said he wanted to speak to me in the green room. I was terrified because he doesn't hold back. If he doesn't like you, he doesn't like you. I thought he was going to be mean and make fun of me but instead he wanted to discuss my career and goals. He was nice but the second time I saw him he was mean and acted like I thought he would the first time. He said, 'Look at her. She's the devil. Look at her shoes.' I had a skirt on with nice shoes from BCBG. I think he was trying to make a joke but it didn't come off as funny. I was slightly offended but reminded myself that he's a comedian and just smiled. Sometimes when someone is rude to you, you just have to smile and be polite because you never know who they are. He's still a cool guy and I respect him.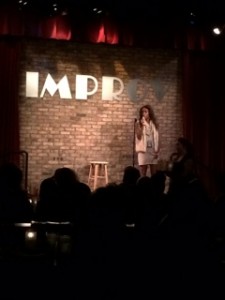 What caused you to shift away from a career in television?
KMBC was not what I expected. We covered stories at murder scenes and I would leave depressed. I wondered how reporters didn't start crying. I guess they had to become immune to it just like I would if I were in that field. I like to know what celebrities are doing so I would much rather cover entertainment news. My radio internship was so hands on. I got to host events, and talk in front of audiences, which is why I returned for a second internship and made it my focus.
What has been your greatest experience?
Being the social media coordinator and hosting on-air every Sunday from 10 a.m.-2 p.m. are my greatest experiences. My dream was to always be an on-air personality and as an intern everyone would tell me that it would never happen. My entire life people have made fun of my monotone voice and told me I would never be on-air. I proved them wrong.
What are your short term goals?
I currently rank number eight in my Sunday time slot and I want to move up to number one. I also want to polish my skills and be the best radio personality I can be.
What's your ultimate career goal?
I would love to be a VJ on MTV. I hope "TRL" [Total Request Live] comes back on television somehow. I love music and with my radio background that would be great. Most of the MTV hosts, including La La Anthony, got their start in radio. Ryan Seacrest, Rocsi and Terrance J from "106th and Park" launched their careers through radio and transitioned to television. I submitted a YouTube audition video for "106th & Park" when they were casting VJs. I wasn't chosen, but that's OK, there's other opportunities. If I were on television I'd want to continue working in radio like Ryan Seacrest, Wendy Williams, and Rocsi Diaz.
What advice would you give to others pursuing a career in journalism?
Intern at as many places as possible. You should ask a lot of questions and network, network, network. Don't let what others say discourage you or get you down. If you want it, own it! It's yours.