New City Seat: sound shines through stormy skies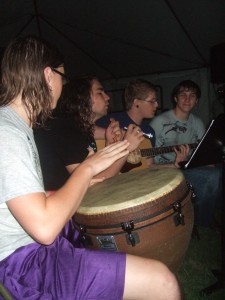 The dark clouds rumbling into St. Joseph's annual Trails West Festival Friday evening worried St. Joe's young, local band: New City Seat (freshmen at UMKC's music conservatory Blake Huntington-vocals/guitar, Dakota Engle-guitar, Chris Rhoden-drums and Thomas Lawerence-bass).
"At first, the bad weather was an upset but seeing the audience wanting to stay and listen despite the weather, it encouraged us to play," Huntington said.
Because of the lightning, the festival grounds would not allow the band use the stage or electrical equipment for safety reasons.
"We weren't going to let the weather steal the show; we had to do something," Huntington said.
New City Seat sat ground level underneath the tent with the support of over 50 people in the welcoming audience.
As the band traded their drums for a djembe and their electric guitar for an acoustic, they started to play a mellow, intimate version of the set.
As more rain came crashing to the ground, their songs only grew louder and more powerful. All the band members slowly joined in and sang their acoustic indie/rock songs.
"Our music is upbeat and lively with a mellow, romantic aftertaste," Huntington said.
Typically, the band's music is filled with lyrics about admiration and love, with lyrics such as "I'll gladly be your eyes when you are blind, we'll leave the world behind and take a second chance for a different life."
Before New City Seat decided to start playing their own music, they were all part of their church's youth group band.
"It's funny how God works with people, and how close we can get and make music," Rhoden said. "We are all Christians and raised out of Riverside church in St. Joseph, Missouri."
New City Seat played with a strong faith and ended their show with an acoustic cover of their favorite worship song, "How He Loves."
Despite the darkness and interruption from the noise of the storm, New City Seat's show shined through with a positive feedback from the audience.
"It is neat to see local talent do well," audience member Rick Hartigan said.
If you are interested, check out "For Your Information" by Blake Huntington on YouTube to get a taste of New City Seat's music.