UMKC Herman and Dorothy Johnson Hall receives EDC Cornerstone Award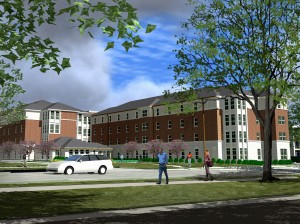 Johanna Poppel
Contributing Writer
As you walk into the Herman and Dorothy Johnson Residence Hall, you may notice some interesting features. There is increased awareness of recycling, lights turned off in the hallway if there is no movement and even thermostats locked at certain temperature ranges.
UMKC's newest residence hall, Johnson Residence Hall, has been selected as a finalist for the Kansas City Economic Development Corporation's Cornerstone Award.
"This award recognizes buildings with at least two of the following characteristics: capital investments, employment increases and improvements to neighborhoods or business districts. Obviously being a LEED-certified building capitalizes on two of these areas," Associate Director of UMKC residential life, Kristen Abell said.
LEED-certification is issued by the U.S Green Building Council. Some of the requirements of LEED-certifications for buildings range from the waste reduction of the actual construction of the building to the type of material being used for flooring and even the placement of windows for natural light.
It has definitely been the students' interest to start bringing environmental sustainability to UMKC's campus.
"Around 2005, the Student Government Association passed a resolution requesting that all future UMKC buildings adhere to LEED-certification standards. This was the first facility built after that resolution. The university is very committed to doing whatever we can to stick to that resolution when possible," Abell said. "We are really excited about this award, and we hope many of the students living in Johnson recognize the unique opportunity that they have to further the Herman and Dorothy Johnson legacy."
According to the UMKC Department of Community and Public Affairs relelase:
"The residence hall will be featured on September 30 at the EDC's annual awards program, receive special recognition in KC Business Magazine, and be presented with a banner for the exterior of the building, recognizing it as an 2010 EDC Cornerstone Awards Finalist."