APC cancels foam party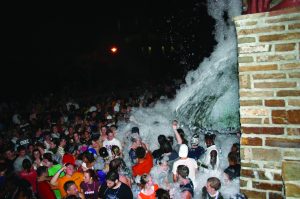 For many years, the UMKC Activity Programs Council (APC) has sponsored the annual foam party as a part of the fall Welcome Week.
However, this year, APC has decided it would end the UMKC tradition and focus on more educational and beneficial events for the UMKC population.
APC's motive for cancelling the foam party is a current subject floating around campus.
There is a laundry list of reasons why APC decided to cancel the event.
Safety precautions and facility violations were the deciding factors.
"While the foam dance was quite popular with students, it also posed a number of safety concerns for our students," Lashondra Randolph, coordinator for student life activities said.
In past years, many safety issues arose while the event took place.
"I thought the foam party was terrible because people were doing rude things in the foam and people were sexually harassing others, it was just really creepy to me," Junior Jocelyn Walker said.
Despite the presence of the University of Missouri-Kansas City PD and several APC staff members, there were several safety concerns that couldn't be avoided.
Non-UMKC students would enter the foam; many were random people from the Kansas City streets.
"UMKC always wants its students to have a good time," Randolph said. "We need to make sure that the good time is also a safe time."
Many students wonder if APC will ever have a foam party in the future.
"Whether another foam party is held in the future is really up to the students and the executive board of APC," Randolph said. "It is also dependent on whether the safety concerns can be properly managed."
The students who attended the foam parties in the past have some thoughts of their own.
"I think it's stupid for APC to cancel the foam party, because it was a good time. Everyone came out and enjoyed it," sophomore Jacob Ortner said. "Last year it seemed like they had it under control."
The Student Government Association (SGA) is tentatively sponsoring a foam party of their own. However, that won't happen until April.
APC is hopeful all students will enjoy the events planned for the 2010 Welcome Week despite the foam party cancellation.
For more information on APC or for scheduled events, please go to www.apcactivities.com.